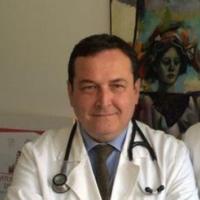 Affiliation:
Scuola Superiore Sant'Anna, Italy
Keynote talk tentative title: "Clinical Evaluation of Sympathovagal balance and Beyond"
Short Bio: Michele Emdin is currently an Associate Professor of Cardiology at Scuola Superiore Sant'Anna, Pisa, Italy, and of Pathophysiology and Diagnostics at the Department of Physics of the University of Pisa, Italy, as well as Director of the Cardio-thoracic Department and of the Cardiology Divison of the Fondazione Toscana Gabriele Monasterio, a section of the Italian National Research Council devoted to clinical research.He graduated at the University of Pisa in 1983, became specialist in Cardiology in 1987 at the University of Pisa, and completed my PhD studies in Cardiovascular Pathophysiology in 1992 at the University of Milan. During those years, my research activity focused on the neuroendocrine control of cardiovascular function in heart failure and several other disease settings, from Chagas' cardiomyopathy to the transplanted heart, systemic sclerosis, diabetes. In 1997 He became specialist in Nuclear Medicine, thus following the tradition started by my long-term mentor and advisor, prof. Luigi Donato, who founded the Fondazione Toscana Gabriele Monasterio.
Following again the path traced by prof. Donato, who combined clinical research activity with an active involvement in health administration, he received a Master degree in Health service management in 2009 at Scuola Superiore Sant'Anna.His current clinical interests cover the spectrum of medical management of cardiovascular diseases, with a focus on heart failure biomarkers, etiology and phenotypes of cardiomyopathies, cardio-respiratory interactions, neuroendocrine control of cardiovascular system, pathophysiology and clinical aspects of heart failure, including diagnostic, therapeutic and general management issues. He coordinates research projects on juvenile sudden cardiac death and the application of nanotechnology to diagnosis and treatment of cardiovascular diseases. His research activity is testified by the metrics of his research output (Scopus 1984 - 2019 H index 46; Total citations 8640; Cited documents 402; ISI WEB H index 42; Total citations 6399; Cited documents 594).
Several research projects are based on international collaborative networks and he has been able to attract funds which have guaranteed their prosecution and accomplishment.He has been editor of 3 books and served as Editor for several Journals, such as European Journal of Cardiovascular Prevention, Deputy Editor; International Journal of Cardiology, Associate Editor, Journal of the American College of Cardiology- Heart Failure, Editorial Consultant, Journal of the American College of Cardiology, past Member Editorial Board. He is Fellow of the European Society of Cardiology, Fellow of the European Society of Cardiology (ESC), Gold Member of the Heart Failure Association of the ESC, Member of both Italian Societies of Cardiology (Società Italiana di Cardiologia, SIC; Associazione Nazionale Medici Cardiologi Ospedalieri, ANMCO), Vice-President of the Tuscan Chapter of the SIC, member of the Board of the Italian Society of Amyloidosis. He is involved in innovation in medical education, activities of the Institutional Etics Committee of both Scuola Superiore Sant'Anna e Scuola Normale Superiore, has co-Directed the PhD Course in Translational Medicine at the Scuola Superiore.